Moonwalk Project
The European MOONWALK project aims to provide simulation tools for exploration and sampling missions on Mars or the Moon, including simulations under the sea in the bay of Marseille on sites identified as analogous. The existing Gandolfi suit has two main objectives: to place the diver in a reduced or zero gravity configuration and simulate the motion constraints induced by the use of a pressurized spacesuit. This training suit is designed for simulation in microgravity: zero gravity (weightlessness) or reduced gravity (1/6G on the Moon and 1/3G on Mars) by means of adjustable and removable buoyancy. The resistant forces generated by the internal pressurization of a real combination of EVA (Extra Vehicular Activities) are simulated by the presence of more or less "hard" mechanical joints.

In this project, Comex have to design and manufacture a new training suit for spacewalks by integrating the devices developed by the moonwalk partners (robot hand control, head-up video display, digital data transmission) while limiting the weight of the suit. At the end of the study, tests in an analogue maritime and terrestrial site are planned under conditions identical to a space mission, a control centre in Brussels, a space shuttle, the ship MINIBEX, an astronaut diver and his robot in communication throughout the mission.
Diving Suit Design
The new suit is based on the architecture of the Z-1. It consists of rigid and flexible links to get as close as possible to the mobility and constraints of the real suit. The suit is designed in composite material to reduce its weight when used on land. The design is conducted by the COMEX, the research teachers of the LMA on the composite structure design part and those of ISM on the ergonomics part.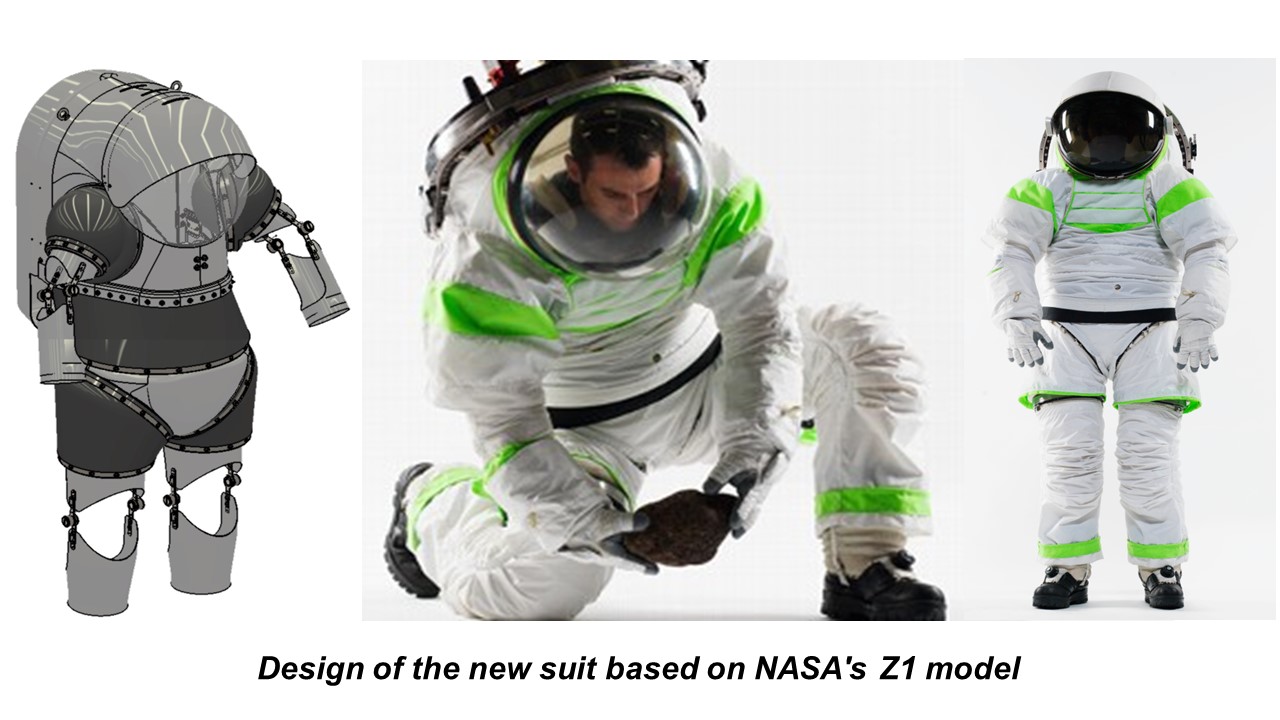 The movements of the shoulders, hips and pelvis are allowed thanks to flexible neoprene links combined with bearings. These elements are realized in partnership with the company BEUCHAT. Elbow and knee movements are allowed but constrained by springs in order to simulate the movement constraints due to the pressure of the suit.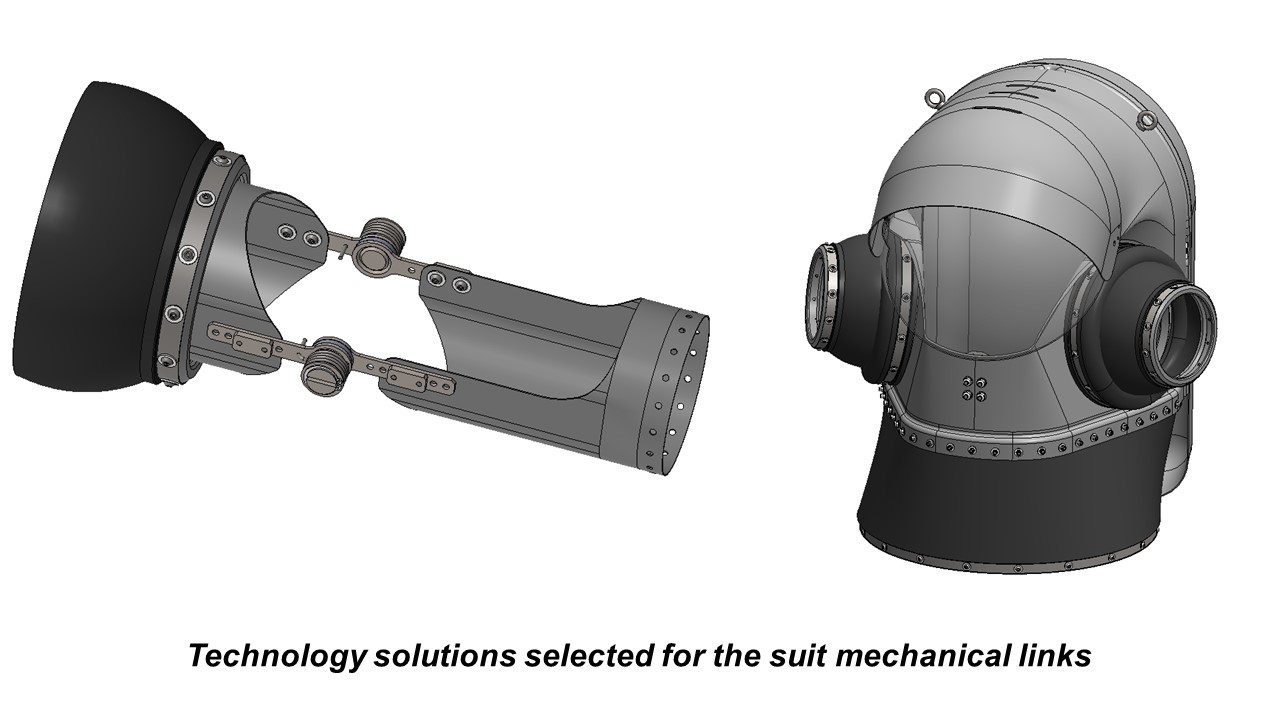 Manufacture of Suit Composite Parts
The suit is then made within the composite platform by a trainee student (E.Estades ) of our Professional Bachelor degree. The CAD and CAM of the moulds is first carried out, then the moulds are manufactured in machinable boards dedicated to prototyping, the moulds are then draped with pre-impregnated glass and/or carbon fibre fabrics. They are finally vacuum-packed and cooked in our oven. This long and complex process guarantees the respect of geometries and mechanical characteristics.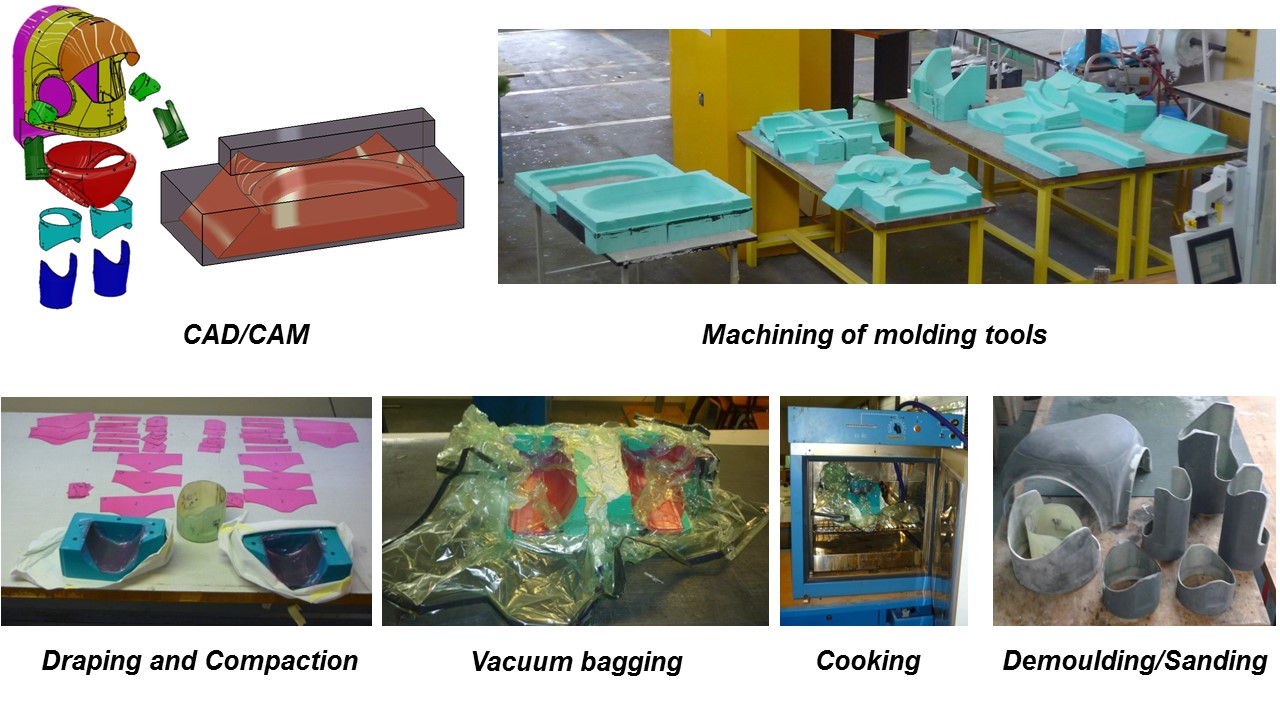 The video of the first trials in the COMEX pool